I am pleased to announce that I will be teaching the "Certificate Program For HR Generalists"  seminar, which will be held in New York City  2/19/2018-2/21/2018.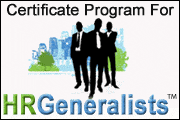 This course has been designed to provide you with practical solutions to the HR challenges you confront every day.
You'll get the vital knowledge you need to succeed – plus the critical strategies to perfect your HR skills. By attending this three-day training program, you will:
Discover best practices and indispensable strategies for every HR function
Acquire the practical knowledge and tools you need to navigate employment law landmines
Get to practice what you learn through "real-life" case studies!
Network with HR professionals from across the country in an exciting location
Earn an "HR Generalist Certificate" that enhances your professional growth
Earn 18 PHR / SPHR re-certification credit hours!
You also receive access to HR Training Center's Training & Certification Programs for FMLA, ADA, COBRA, HIPAA, and the FLSA.
To see the Agenda, venue info, or to enroll, go to http://hrtrainingcenter.com/showSEDetails.asp?TCID=1218378&RID=1010991.